list hentai(список хентая)
download hentai
---
Welcome To Pia Carrot II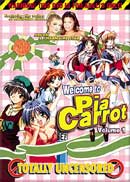 1998-1999 год. 3 ep.
Studio(Студия): http://www.pinkpineapple.co.jp
Description(Описание):
KOJI is late for his job interview at Pia Carrot, but gets hired because he's very persistent. AZUSA (DEVON) who caused him to be late for his interview, hates him with a passion. It seems like the beginning of a pleasurable summer with all the beautiful waitresses. The reality is that the manager RYOKO (CHARMAINE STAR) works him very hard but secretly has a crush on him. RYOKO and AOI are giving him a welcome party, but AOI gets drunk and falls asleep. KOJI and RYOKO are left to themselves to discover the feelings they have for each other.

---
list hentai(список хентая)
download hentai