list hentai(список хентая)
download hentai
---
My My Mai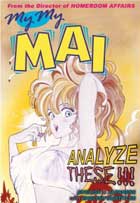 1993-1994 год. 2 ep.
Genres(Жанр): Comedy / ecchi / romance
Description(Описание):
There's something strange in the neighborhood. Who you gonna call? No, not the Ghost Busters. These days, the only way you can probably attract unwanted spirits and get rid of them is to use someone with a body you'd die for and a set of tools that doesn't involve gooey ectoplasmic energy. If that's what you're looking for, then you have no other recourse but to contact Mai. She'll solve your supernatural problems for you in a way you'd never forget!




---
list hentai(список хентая)
download hentai