list hentai(список хентая)
download hentai
---
Welcome to Pia Carrot / Сочная морковка (Pia Carrot 1 | Piaキャロットへようこそ!! | Pia キャロット へ ようこそ!!)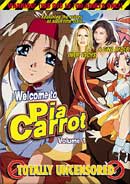 1997 год. OAV (3 ep.), 30 мин.
Genres(Жанр): хентай, романтика
Studio(Студия): Pink Pineapple http://www.pinkpineapple.co.jp/
Ep.(Серии): 01. Menu 1 02. Menu 2 03. Menu 3
Thumbnail sketch(Краткое описание):
Ресторан "Сочная морковка" славится своей отменной кухней и соблазнительными официантками. Юному Юсукэ, чьи родители владеют рестораном, в наказание за плохие отметки в школе пришлось на летних каникулах отработать в "Сочной морковке", и это лето окажется для него незабываемым. Близость с четырьмя очаровательными девушками обеспечит Юсукэ пикантным меню из любовных утех и романтических приключений.
Description(Описание):
"Pia Carrot" is a famous family restaurant that has beautiful waitresses who serve in cute sexy costumes. YUSUKE, whose father owns the restaurant, is forced to work part time during the summer break because of his poor grades in school. His classmate and coworker SATOMI (GINA RYDER) teases him and orders him around at the restaurant while SHIHO (INARI VACHS) carefully scrutinizes every move he makes. One day, the beautiful and sexy girl REIKA approaches YUSUKE in the ally of the restaurant and tells him that she has a crush on him. Later on, while saving her from falling, he accidentally touches her full sexy breasts and experiences her soft sensual touch as she presses his hands against her aroused body. SHIHO (INARI VACHS) promotes YUSUKE from bus boy to waiter but he doesn't care about anything but being with REIKA.





---
list hentai(список хентая)
download hentai