list hentai(список хентая)
download hentai
---
Tales of Seduction / Истории соблазнения (U-Jin Brand | 遊人ブランド アイドルがAMIDAの毒牙にかかるとき | 遊人ブランド)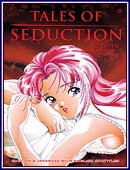 1991 год. OAV (1 ep.), 45 мин.
Genres(Жанр): хентай, драма, романтика, повседневность
Studio(Студия): Discovery http://www.seddnet.com/
Description(Описание):
In a city where power corrupts absolutely, greed, desperation and lust drive the world's most important men into the arms of women who just can't get enough. A star songwriter lures fame-hungry vixens to his bed. An executive by day transforms into an infamous super-seducer after dark. Women swoon, men tremble, and all the rules are broken in this triad of tantalizing tales.





---
list hentai(список хентая)
download hentai