list hentai(список хентая)
download hentai
---
Lewd Room / Распутная комната (Injoku no Heya | 淫辱の部屋)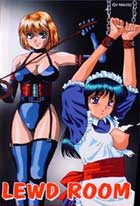 2001 год. OAV (1 ep.), 30 мин.
Genres(Жанр): хентай
Studio(Студия): Soft on Demand http://www.sod.co.jp/demand/anime/index.html
Description(Описание):
Kazuki, a wealthy young man, yet struck by a terminal illness, lives in his big mansion with numerous female servants. Among them is Nanase, who fell in love with Kazuki. She is trying her best to make him understand the joys of life. However, ever since Kazuki`s sister noticed her feelings, jealousy drives her to discipline Nanase whenever possible in her "torture chamber"...

---
list hentai(список хентая)
download hentai