list hentai(список хентая)
download hentai
---
Immoral Sisters: Blossoming / Распутные сестры: Цветочки (Ai Shimai Tsubomi... Kegashite Kudasai | Ai Shimai: Tsubomi ...Yogoshite Kudasai | Immoral Sisters 3: Blossoming | 愛姉妹 蕾…汚してください)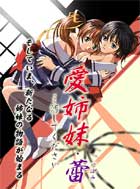 2004 год. OAV (2 ep.), 30 мин.
Genres(Жанр): хентай
Studio(Студия): Pink Pineapple http://www.pinkpineapple.co.jp/
Ep.(Серии): 01. Return of Beloved Daddy 02. Entangled in Sisterly Love
Description(Описание):
The sister of Miyatsuji Kotono and Suzuyo went to the Ikaruga High School where her mother Kasumi acted as a leader of the trustee. The two beautiful girls adored Kaneshiro Shoichi. However, he gave his concern only to the school doctor, Morisawa Maiko, and he was captivated by her body. Because he would be expelled from school if he didn't pass the examination, he was tempted by Maiko to break into the principal's office, and stole the disk that contained the examination.
Commentary(Комментарии):
Kenchin | пользователь № 34640 | 2007.07.13
Я может ошибаюсь, но КАК связон Этот хентай с его сородичами? Ну, если тока смыслом: Парень + Девка + её Сестра + их Мать + еще каккая-то женщина (в подарок)...

---
list hentai(список хентая)
download hentai