list hentai(список хентая)
download hentai
---
Flashback Game / Игра воспоминаний (Flash Back Game | フラッシュバックゲーム)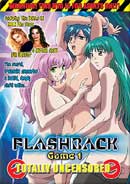 2001 год. OAV (3 ep.), 28 мин.
Genres(Жанр): хентай
Studio(Студия): Five Ways http://xcity.jp/FIVEWAYS/
Description(Описание):
Mizuho, Noriko and Yuri set out on an exciting beauty spa vacation that Yuri won as a prize. Relaxing in the hot springs at the hotel of the spa, they dream about the fun and excitement that is sure to come, unaware of the vicious psychological trap that they are about to enter. When they enter a new treatment pod at the spa, they see a flash of light and a vision of their suppressed memories. Mizuho's mind is suddenly flooded with the memory of her violent gang raping at the hands of her classmates. Yuri is reminded of her incestuous sexual abuse by her uncle. Now, when they see a strange flash of light, they will be dragged into an alternate world filled with their traumatic memories and lustful, sinful dreams. Will sanity ever return to their lives, or will they be destroyed by their own memories?
Commentary(Комментарии):
Hedgehog Miznno, Noriko и Yuri на каникулах попадают на курорт невиданной красоты. Отдых, который они выиграли в качестве приза. Загорая и расслабляясь в Хот-Спрингсе - гостинице курорта, они мечтают о забавах и волнительных приключениях, которые должны непременно с ними произойти, не сознавая опасности порочной психологической западни, в которую они попали. Вскоре они увидят вспышку света и видения их подавленных воспоминаний.




---
list hentai(список хентая)
download hentai