list hentai(список хентая)
download hentai
---
Detective Goddess / Богиня-детектив OVA-1 (Megami Tantei Vinus File | Vinus File | 女神探偵 VINUS FILE | 女神探偵)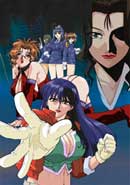 2003 год. OAV (1 ep.), 30 мин.
Genres(Жанр): хентай
Studio(Студия): Milky http://www.milky-anime.com/
Description(Описание):
Возможно продолжение Kamyla (???) File 01 - A feast of huge tits, swollen nipples and squishy sounds as a big breasted detective is captured, raped, and gets her huge milk jugs smashed by a good tit fuck. File 02 - Some young men capture a mature, busty reporter and tie her in bondage. They then procede to have some fun with her huge breasts, and she is helpless to stop them as they milk them dry.

---
list hentai(список хентая)
download hentai